Zatražite posjet misionara
Kontaktirat ćemo vas kako bismo dogovorili vrijeme kada možemo navratiti, iznijeti nadahnjujuću poruku i odgovoriti na vaša pitanja.
We look forward to our conversation. We'll contact you in the next 24 hours to schedule your appointment.
Kako mi misionari mogu pomoći?
Iako vaš odnos s Bogom može biti duboko osoban, ponekada svi mi trebamo malu pomoć u prepoznavanju onoga što nam Bog govori. Bez obzira na to gdje se nalazili na svojem duhovnom putu, misionari vas mogu podučiti o evanđeoskim načelima i uvidima koji vam mogu pomoći na vašem putu. Razmišljajte o njima kao o duhovnim trenerima koji će:
pomoći vam osjetiti se bliže Bogu; 
pokazati vam kako se moliti i primati odgovore od njega;
pomoći vam pronaći odgovore na vaša duhovna pitanja;
podučiti vas o Spasitelju Isusu Kristu i njegovom evanđelju;
pomoći vam razumjeti Sveta pisma;
podržati vas kroz vaše osobne izazove;
bodriti vaš napredak prema pokajanju, vjeri i krštenju;
upoznati vas sa zajednicom vjernika istomišljenika koji vas mogu nastaviti podržavati na vašem duhovnom putovanju.
Što očekivati od posjete misionara
Misionari će zatražiti da započnu posjet s molitvom. Ako ste spremni na to, mogli bi vas čak i zamoliti da se pomolite. U svakom slučaju, cilj je pozvati Svetog Duha da bude dio razgovora.
Vjerojatno će provesti nekoliko minuta da upoznaju vas i vaše interese. Misionari imaju cijeli program koji vas mogu podučiti, no oni nastoje personalizirati svoju poruku vama i vašoj životnoj situaciji. Čitat će iz Biblije i Mormonove knjige s vama i pozvati vas da se molite i upitate je li ono što vas podučavaju istina.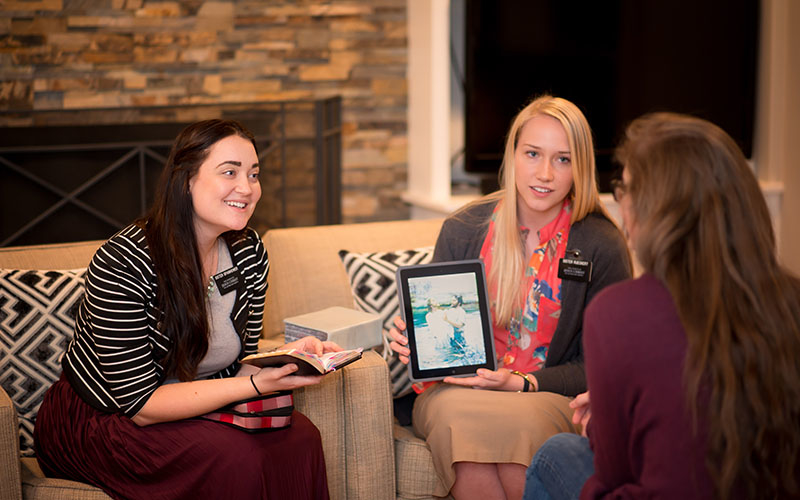 Želite li to, misionari će dogovoriti sljedeći sastanak s vama. Tijekom vašeg naknadnog sastanka, podučit će vas više o Isusu Kristu i njegovom obnovljenom evanđelju te odgovoriti na bilo koja pitanja koja biste mogli imati. Njihov program također uključuje poruke o Božjem naumu za našu sreću, Isusovu žrtvu za nas, vjeru, pokajanje, krštenje, Svetog Duha i obdržavanje Božjih zapovijedi. Nastavit će vas pozivati da se molite, čitate Mormonovu knjigu i dolazite u crkvu pa čak i da budete kršteni. Upamtite da će misionari pratiti vaš tempo i poštivati vaše vrijeme i želju da se sastajete ili ne sastajete s njima.
Mormon.org Chat is typing...