Bible Study Missionary Guide
The Church of Jesus Christ of Latter-day Saints continues to explore new ways to invite and help people come unto Christ. One of the new advertising offerings is a free Bible study. In addition to requesting a free copy of the Bible (or a copy of the New Testament for Spanish referrals), people who sign up for a bible study also request a conversation about a specific topic, such as "feeling closer to God and Jesus Christ" or "strengthening families."
When someone requests one of these Bible studies, he or she has the option to choose from topics on this sheet, and their chosen topic will be passed along to you. The included list of scripture passages and questions will help you prepare for the Bible study discussions. Become familiar with these scriptures and be prepared to share a relevant passage from the Bible of the Book of Mormon as you discuss questions and help others feel the Spirit. Study and apply principles from the "Use the Scriptures" section in chapter 10 of Preach My Gospel.
Note that Bible studies are introductory lessons. Their purpose is to help you become acquainted, invite the Spirit, and see if there is interest in learning more. As you come to understand people's needs and interests, invite them to continue studying the gospel with you. You can help them come closer to the Savior and strengthen their desire to learn more about His restored gospel.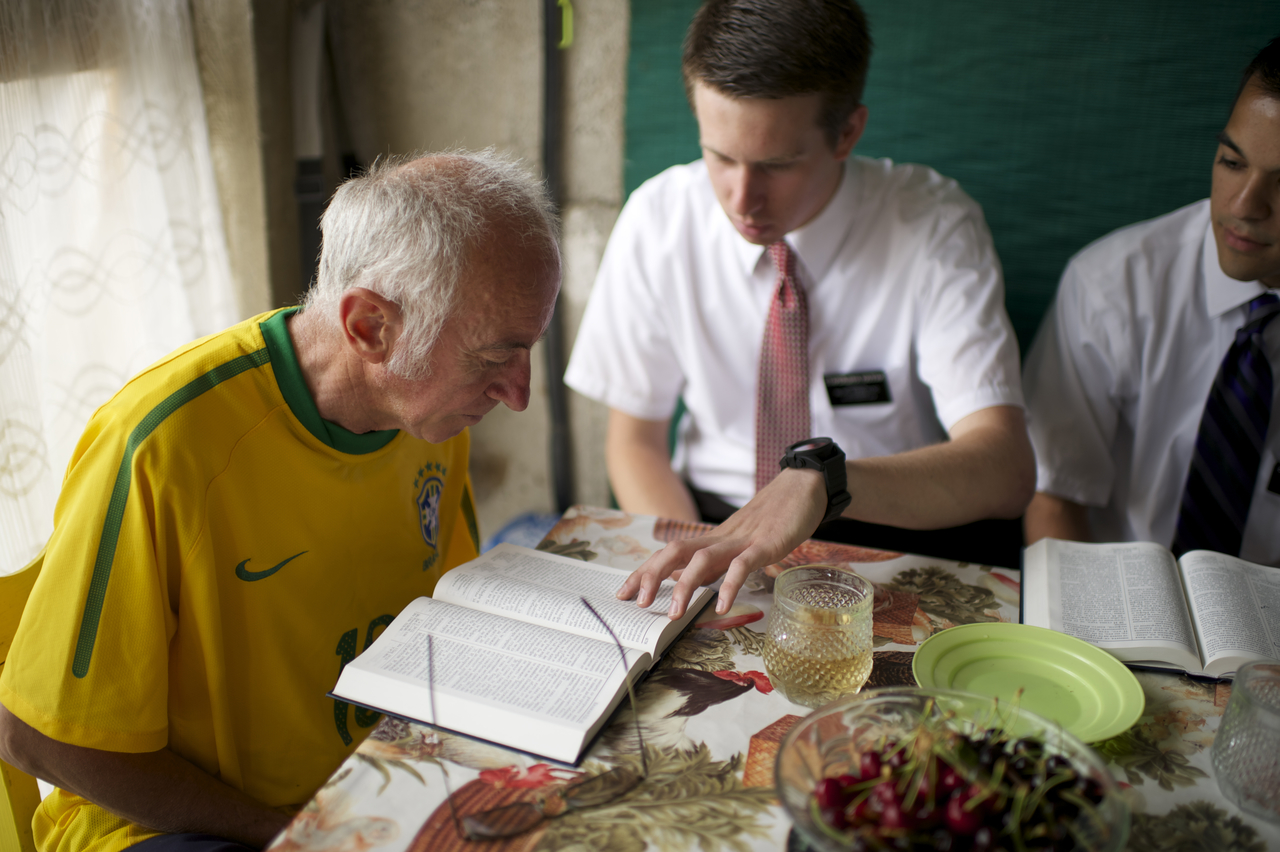 When you visit in person, apply "How to Begin Teaching" from Preach My Gospel chapter 10. Find out why those participating were interested in receiving you, what their expectations are for your visit(s), what their experience and belief with religion and the Bible is, and what questions they have.
Each person may choose to study with missionaries either online or in person. Online missionaries contact requesting person and help him or her prepare to meet with local missionaries in person. When referrals are sent to local missionaries, online missionaries contact the local missionaries, share information about the person, and share or discuss materials related to the advertising offering. Online and local missionaries should work together to help the person have a positive experience with the Church.
Additional Instructions for Teaching
Make sure you follow through with each request for a personalized study. Avoid any approach in the initial visit that might leave the person feeling tricked, such as not providing a message about the topic they requested. You may, however, discuss additional topics and scriptures as needed to clarify your message or answer other questions.
Try to build a meaningful relationship with each person. As you ask questions and get to know each other, open up and share a little more about yourself beyond the fact that you are a missionary. Share brief personal experiences from your life and discuss how what you learned from your experience can make a difference in his or her life.
Take a few minutes at the end of the visit to extend a simple, appropriate invitation. For the first visit, you would likely invite the person to continue meeting with you to learn more about the gospel of Jesus Christ. Practice extending invitations during companion study, district council, and zone conferences.
ComeUntoChrist.org Chat is typing...